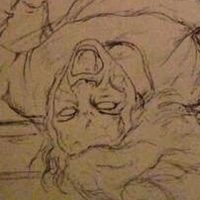 Seeking submissions: Horror stories featuring demonic possession and/or exorcism. We aren't looking for retellings of The Exorcist, The Exorcism of Emily Rose or Paranormal Activity. We want your new take on the millennia-old story.
Standard Anthology Format- 3K-9K, Times New Roman, double spaced. A PDF copy of the book will be provided to all authors chosen for the final book.
There will be a custom painted cover by acclaimed horror artist Stephen Cooney based on this sketch. Send submissions to revfish@gmail.com Attn: For We Are Many Submission. Include your bio with the story.
If you want to contribute, feel free to join the new Facebook group for it.
https://www.facebook.com/ForWeAreManyAntho/. #EpicFishTales #exorcism #horroranthology #possession #NotYourDaddysExorcist
Tags:
epicfishtales
,
exorcism
,
horroranthology
,
notyourdaddysexorcist
,
possession