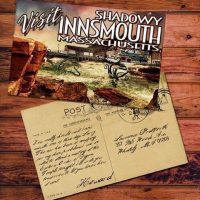 Happy Holidays everyone. I have a big announcement to make.
Submission call!
Come visit shadowy Innsmouth, Massachussets! Take in the historic architecture of our quaint town, especially the original Esoteric Order of Dagon temple! The cool salt air will have a transformative effect on your dry, scaly skin! Go diving at Devil's Reef and see the wonders sunken there! Innsmouth is calling to you!
In the upcoming anthology Visit Shadowy Innsmouth we are looking to explore the themes of outsiders, tourists even, that have encounters in depths of Lovecraft Country. The stories should be set in locales created by HP Lovecraft or his peers including Arkham and its stately university Miskatonic, Innsmouth, Dunwich, as well as the rural environs about these ageless towns. For our writers in the UK, I am sure there are parallels in your countryside and if not, feel free to create your own. The same goes for US authors as well as the rest of the world. Isolated towns that hold their secrets are the perfect setting.
Now for the twist…
Each story will need to be accompanied by a pitch from a travel agency or tourism board which would lure outsiders into the area, causing them to fall prey to the eldritch horrors behind the stone walls and hidden under the roiling surf. Feel free to reference my pitch at the beginning of this message.
Please let me know if you are interested in participating in, what is essentially, Within Stranger Aeons 2. I have invited all the original participants before opening it to the general public.
Standard Anthology Format- 3K-9K, Times New Roman or Calibri, double spaced. The deadline for this book will be July 1, 2017, giving you six months to nail this. Consider open until full until further notice. A PDF copy of the book will be provided to all authors chosen for the final book.
Send submissions to revfish@gmail.com Attn: Innsmouth Submission. Include your bio and tourist pitch with the story.
#HPL #Lovecraft #LovecraftCountry #Mythos #WithinStrangerAeons #VisitShadowyInnsmouth #InnsmouthMass #horrorwritersassociation #hwa #horrorwriter #horror
Tags:
horror
,
horrorwriter
,
horrorwritersassociation
,
hpl
,
hwa
,
innsmouthmass
,
Lovecraft
,
lovecraftcountry
,
mythos
,
visitshadowyinnsmouth
,
withinstrangeraeons