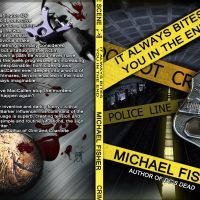 Coming soon from the author of DC's Dead, a tale of tattooed terror. When a DC Homicide detective finds a victim dead from unusual causes, he finds himself drawn down a path of ink and blood.
When a Washington DC Metro Homicide detective started his shift on a sunny July morning, he was greeted with an unsual victim, an obvious snake bite; not something normally considered a homicide, but a tattoo on the victim sends him down a path he would never have believed. As the week progresses, an increasing number of unexplainable homicides draws Detective MacCallen ever deeper into a world of tattooed nightmares, terrors enacted in the most gruesome ways imaginable.
Can Detective MacCallen stop the murders before they happen again?
"Wonderfully inventive and darkly funny…with a subtle Clive Barker influence…his command of the English language is superb, creating tension and scares from simple and routine situations, the sign of a great writer." -Stuart Keane, Author of Grin and Charlotte.
Tags:
Bites
,
DC
,
homicide
,
horror
,
mystery
,
police
,
tattoos
,
Washington